As the ten year Yartzeit of the assassination of Yitzchak Rabin approaches, there is much debate about how to commemorate this shaping event in Israel's history. The left seeks to commemorate the assassination with a homage to the Oslo peace process, arguing for further territorial concessions in exchange for peace. The centre/religious Zionist camp want to commemorate the event by emphasizing "ahavat Yisrael" and Jewish unity, beyond politics. Some on the right would prefer not to commemorate the assassination at all.
(Numbered people are 1-Yitzchak Rabin, 2- Yigal Amir, 3-Student Mordi Israel, 4-Driver Menachem Damti, 5-Agent S.N. (Possibly S.G.), 6-Bodyguard Yoram Rubin)
These were the of Rabin's final speech delivered on November 4th, 1995:
"Permit me to say that I am deeply moved. I wish to thank each and every one of you, who have come here today to take a stand against violence and for peace. This government, which I am privileged to head, together with my friend Shimon Peres, decided to give peace a chance -- a peace that will solve most of Israel's problems.

There are enemies of peace who are trying to hurt us, in order to torpedo the peace process. I want to say bluntly, that we have found a partner for peace among the Palestinians as well: the PLO, which was an enemy, and has ceased to engage in terrorism. Without partners for peace, there can be no peace. We will demand that they do their part for peace, just as we will do our part for peace, in order to solve the most complicated, prolonged, and emotionally charged aspect of the Israeli-Arab conflict: the Palestinian-Israeli conflict.

This is a course which is fraught with difficulties and pain. For Israel, there is no path that is without pain. But the path of peace is preferable to the path of war. I say this to you as one who was a military man, someone who is today Minister of Defense and sees the pain of the families of the IDF soldiers. For them, for our children, in my case for our grandchildren, I want this Government to exhaust every opening, every possibility, to promote and achieve a comprehensive peace. Even with Syria, is will be possible to make peace.
This rally must send a message to the Israeli people, to the Jewish people around the world, to the many people in the Arab world, and indeed to the entire world, that the Israeli people want peace, support peace. For this, I thank you."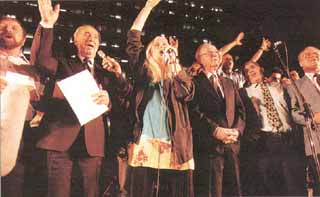 What do you make of Rabin's political legacy, and how do you think we should remember his life?